Now that summer is in full swing in Northern Michigan, it's time to get outdoors and explore! Here are some great places to visit in Traverse City that we think you will love!
Sleeping Bear Dunes National Lakeshore
 Visit the dunes for a hike and beautiful scenery. The scenery is gorgeous and goes for miles with stunning views of the lake. Plan a camping trip or spend the day hiking the trails. If you decide to visit at night when the stars are out, you won't be disappointed with the views up above. Sometimes you can even catch a glimpse of the Northern Lights!
The Little Fleet
 During the day, the Little Fleet is a great place to take the family. You can always find a slew of food trucks there. We guarantee you will have a hard time trying to choose what to eat! During the evening hours, you can often find events happening. It's a great place to wind down and let loose on the weekends after a long week of working!
Front Street Shopping
 Front Street in downtown Traverse City has over 150 shops, boutiques, and restaurants to visit. If you are looking for a shopping adventure, you won't be disappointed here. Stop into the Sunglass Shoppe and say hi and check out the variety of glasses we carry!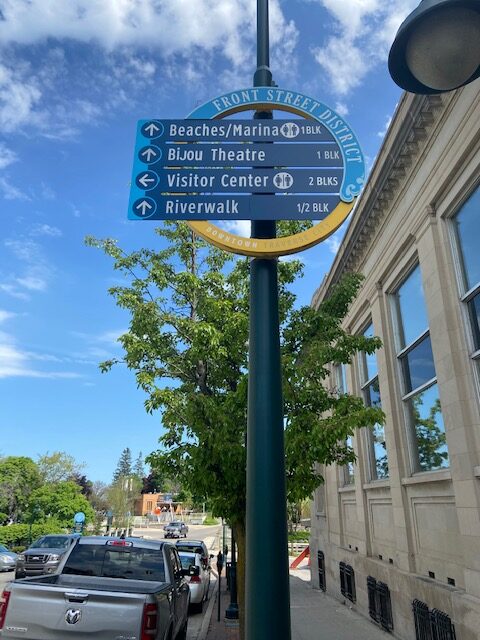 Boardman Lake Trail
 If you are a lover of the outdoors and enjoy hiking, Boardman Lake Trail is a must-visit! This two-mile heavily wooded trail runs along the east side of Boardman Lake. Part of the trail is paved, and part of it is crushed limestone and boardwalks. There is something for every hiker on this trail!
Leelanau Wine Trail
 This trail is a must-go if you are a wine lover! The trail is divided into three smaller trails for touring. Stop in to various wine tasting rooms along the trail while getting a different experience in each one. Enjoy breathtaking views along the trail as an added bonus! These are just a few of the things you can do in Traverse City, MI. There are plenty of areas to go if you are looking to fish, boat, or bike, too. There is something for everyone in Traverse City!