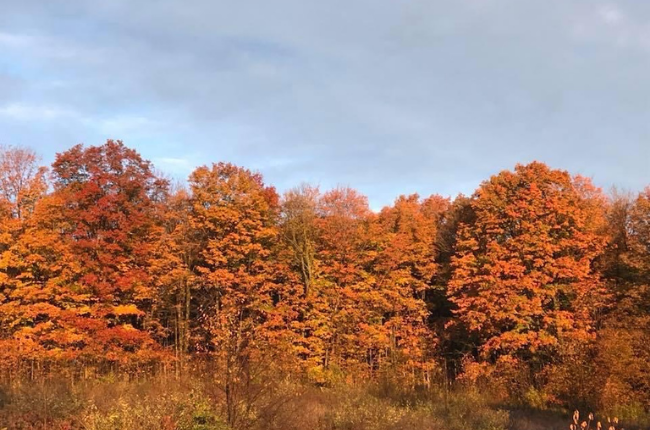 It's now September, the weather has cooled off, and that means you need some Northern Michigan Fall Activities to enjoy!
Fall Color Tour: Grab your camera and hop in the car with your family or friends to check out Northern Michigan's Fall colors. If you're traveling north, check out the Tunnel of Trees; if you're heading south, check out Old Mission Peninsula. Whatever one you pick, you're sure to enjoy yourself.
Apple Orchards: Fall is the perfect time to visit an apple orchard; Friske's is one of our favorites. You can walk through the orchards and pick your own apples; there are several different kinds to choose from. Make sure to grab enough apples to bake a pie or make some homemade applesauce.
Fishing: September and October are a great couple of months to stop by the mouth of the Bear River in Petoskey for some salmon fishing. Grab your poles, a net, and all your fishing gear for a fun day fishing.
Camping: Book a cabin on the lake and enjoy the beautiful fall colors, kayaking, and a night around the bonfire.
Hiking: Another way to enjoy the beautiful changing colors and the outdoors this fall is with a nice hike. Don't forget a light coat or a hat; you may need it this time of year.
You might also enjoy:
The Best Sights in Petoskey: If you're in Petoskey, there are lots of beautiful sites to see but if you're crunched for time, here's 4 you don't want to miss.
9 Things to do Outdoors in Petoskey: Are you looking for ways to get outside and enjoy the outdoors? Here are nine things to do outdoors in Petoskey.
Charlevoix in the Summer: Charlevoix, Michigan is a beautiful town in Northern Michigan located on Lake Michigan, Round Lake, and Lake Charlevoix. A lake town with a list of things to do and see, check out our recommendations.