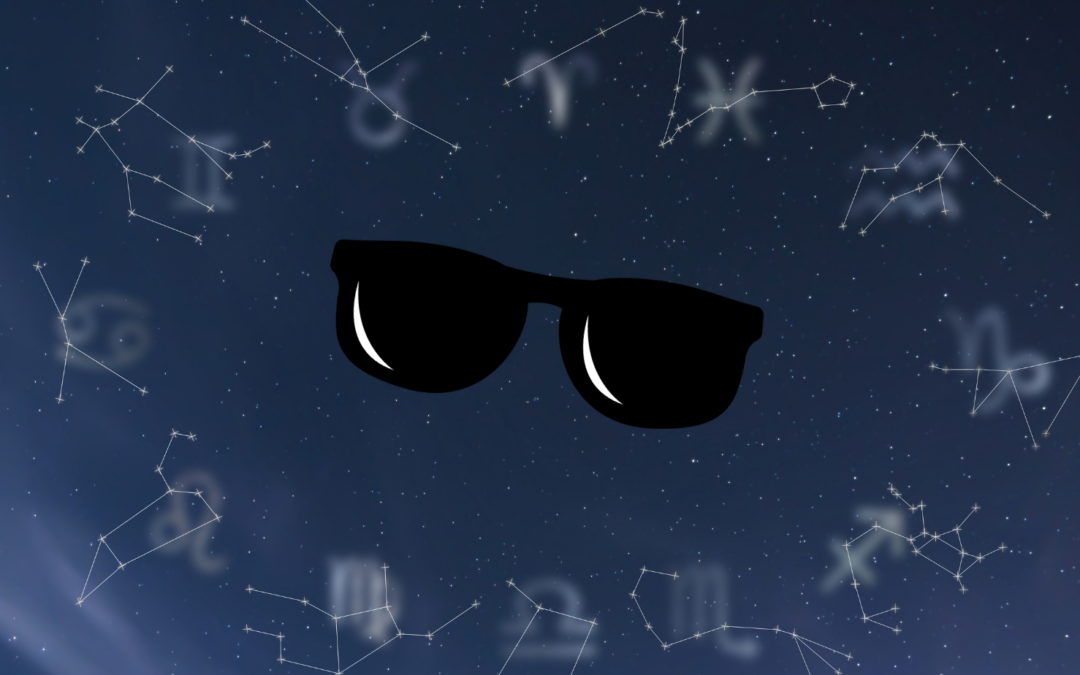 Just as the stars influence our personalities and destinies, they can also inspire our sense of fashion. Are you curious to know which sunglasses align best with your zodiac sign? Look no further as we embark on a cosmic journey through the eyewear universe. We will explore how your star sign traits can lead you to the ideal pair of sunnies. Whether you're an adventurous Aries or a dreamy Pisces, we've got you covered.
Aries (March 21 – April 19): Dynamic and Bold
Aries individuals are known for their fearless and adventurous spirit. They gravitate toward bold and daring sunglass styles that make a statement. Think oversized frames with vibrant colors or unique geometric shapes, such as the ILLA or Sïto collections. Aries, your sunglasses should match your unstoppable energy!
Taurus (April 20 – May 20): Practical and Luxurious
Taurus signs appreciate the finer things in life, and their sunglasses are no exception. Look for classic, high-quality frames like timeless aviators or elegant tortoiseshell patterns. You can never go wrong with the infamous Ray-Ban collection! Taurus, your sunglasses should be as practical as they are luxurious.
Gemini (May 21 – June 20): Versatile and Curious
Geminis have a natural curiosity and love for versatility. Opt for sunglasses with neutral-colored lenses or frames that can be adapted to various styles. Maui Jim would be a fantastic and diverse collection! Geminis, your sunglasses should coincide with your ever-changing interests.
Cancer (June 21 – July 22): Protective and Nurturing
Cancer signs are nurturing and protective by nature. Consider sunglasses with polarized lenses or UV protection to shield your sensitive eyes. Zeal Optics offers exquisite UV protection with a fashionable touch. Look for frames with gentle curves and soft colors that reflect your caring personality.
Leo (July 23 – August 22): Confident and Dramatic
Leos love the spotlight and gravitate toward sunglasses that exude confidence and drama. Look for oversized, glamorous frames or ones adorned with bold embellishments. Consider checking out the Morel collection! Leos, your sunglasses should be as radiant as you are!
Virgo (August 23 – September 22): Practical and Detail-Oriented
Virgos appreciate practicality and attention to detail. Choose sunglasses with clean lines and minimalist designs. Focus on high-quality materials and craftsmanship. The Ovvo Optics collection creates high-performance, technologically advanced eyewear that undergoes 85 steps of craftmanship. Virgos, your sunglasses should reflect your meticulous nature.
Libra (September 23 – October 22): Harmonious and Stylish
Libras have a natural sense of style and seek harmony in all things. Opt for sunglasses that feature balanced designs, like classic wayfarers or round frames. Ray-Bans would be an excellent choice to achieve a balanced and stylish statement. Look for color combinations that complement your wardrobe effortlessly.
Scorpio (October 23 – November 21): Mysterious and Intense
Scorpios have a magnetic and intense personality. Choose sunglasses with dark, mysterious frames and tinted lenses. The State Optical Co. collection boasts many darker frames and lenses in various shapes. Embrace cat-eye or square styles that accentuate your enigmatic allure.
Sagittarius (November 22 – December 21): Adventurous and Optimistic
Sagittarians have a spirit of adventure and optimism. Go for sporty sunglasses with durable frames to keep up with your active lifestyle. Costa sunglasses are the perfect choice for those on the go, seeking thrills and high-quality durability. Look for vibrant colors that reflect your inner love for life.
Capricorn (December 22 – January 19): Practical and Disciplined
Capricorns are practical and disciplined individuals. Opt for timeless and durable sunglasses like classic aviators or rectangular frames. You can never go wrong with a pair of Oakley shades! Focus on functionality and quality that will stand the test of time.
Aquarius (January 20 – February 18): Innovative and Unique
Aquarians are known for their innovative thinking and unique style. Choose sunglasses with unconventional shapes or futuristic designs. The Nina Mûr crafts gorgeous frames from refined natural wood, various color options, and shapes. This collection is the perfect combination of innovation, design, and quality! Embrace unconventional materials that reflect your forward-thinking approach.
Pisces (February 19 – March 20): Dreamy and Compassionate
Pisceans have a dreamy and compassionate nature. Look for sunglasses with soft, flowing lines and ethereal colors. The Krewe collection offers sunglasses with an array of colors, patterns, and shapes while maintaining a delicate and classic style. Consider frames with gradient or pastel-tinted lenses that capture your empathetic spirit.
Your star sign can offer valuable insights into your personality and style preferences, even when selecting the perfect pair of sunglasses. So, the next time you're at one of The Sunglass Shoppe's four locations searching for eyewear, let the stars guide you toward the sunglasses that reflect your style!
415 Bridge St., Charlevoix, MI 49720
325 E. Lake St., Petoskey, MI 49770
222 Butler St., Saugatuck, MI 49453
137 E. Front St., Traverse City, MI 49686