Have you ever wondered about the parts of your eyeglasses? Let's dive into the anatomy of your eyeglasses.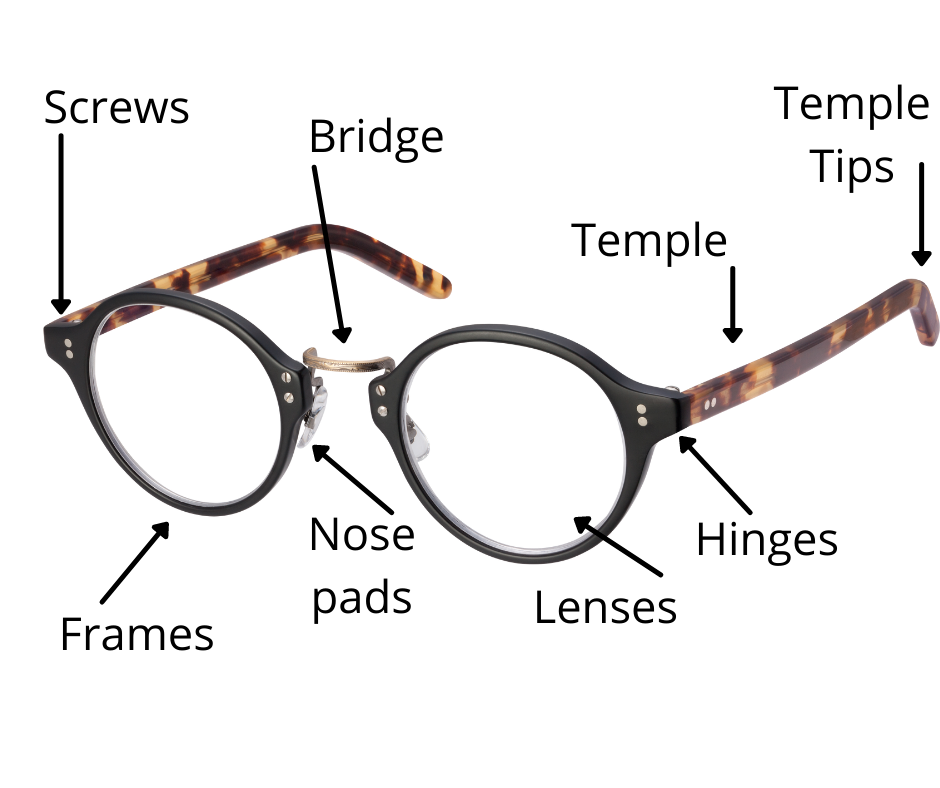 Frames 
This is the main part of your eyeglasses. It is what holds the lenses in place. They come in a variety of different styles and brands.
Lenses
Most people would say this is the most important part of your eyeglasses. The lenses are the clear pieces of your eyeglasses. It usually comes in prescription form. The size of the lenses depends on your prescription and the style of frames you choose.
Bridge
This part of your eyeglasses does precisely what it says. It bridges your nose and allows your eyeglasses to sit comfortably on your face.
Nose Pads
Nose pads also help with comfort. They are the small pads that rest on your nose. Nose pads can either be part of the frame or a separate piece that attaches to the frame with a piece of metal.
Hinges
Hinges are the joints that allow you to open and close the temples on your eyeglass frames.
Screws
The screws of your eyeglasses are what join the two pieces of a hinge together. It is not uncommon for a screw to come loose or even fall out. Most eyeglass stores, such as the Sunglass Shoppe, can help you with replacing or tightening the screws.
Temples
This part of your eyeglasses falls on both sides of your head. The temple's job is to keep your glasses secure when you are wearing them. Temples are made in different lengths to fit different head sizes.
Temple Tips
At the end of your temples are the temple tips! Some temple tips can be covered or coated with plastic or a rubber material to make your eyeglasses sit more comfortably.
If you are looking for the perfect fitting eyeglasses for yourself, visit the Sunglass Shoppe and we can help you! We have shops located in Petoskey, Charlevoix, Traverse City, and Saugatuck, MI.