Eyeglasses can significantly impact your appearance and choosing the right makeup to complement them can sometimes be tricky! Here are a few makeup tips to make you look your best while wearing your glasses.
Avoid shadows
Some glasses will cast dark shadows around your eyes in certain lights. To fight this, use a lighter shade of foundation under your eyes and down the center of your nose. Contouring your face by your cheekbones and around your forehead can also help with shadows.
Lighten up your eyeshadows
 Wearing darker eyeshadows with glasses can make your eyes look tired. Sticking to more neutral and bright colors can make your eyes pop more behind your glasses. If you just can't give up those dark eyeshadows, invest in larger frames. The bigger the eyeglass frames, the more people will see your eyes and your darker eyeshadows.
Match your eyeliner with your glasses
If you have thinner eyeglass frames, go for a thinner eyeliner around your eyes. If your glasses have a thicker frame, a thicker eyeliner around your eyes will accentuate them.
Volumize your eyelashes
Choose a volumizing mascara if you wear glasses. However, be careful about using too much mascara because you don't want clumps ending up on your eyeglass lenses. A creamier mascara will help prevent this.
Boost your brows
Use a brow brush to brush your brow hairs up and out. This will make your eyebrows sit more on top of your eyeglass frames.
Bring attention to your lips or your eyes – not both
Whether you wear glasses or not, it is best practice to accentuate either your eyes or your lips. If you have big, bold glasses, go for a more neutral lipstick color so your eyes will stand out. If you have thinner, less obvious eyeglass frames, go for the red lipstick!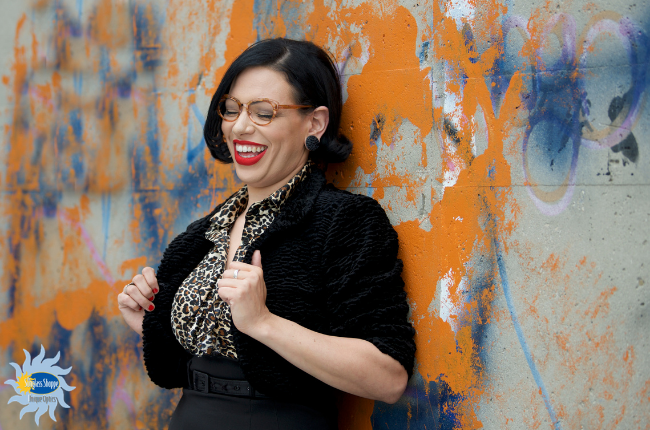 Wearing makeup is fun, but it's also important to remember that it can sometimes cause eye irritation or infections. Always remember to clean off your makeup every night before you go to bed to prevent infections. Be sure to also clean your eyeglass lenses frequently, as makeup can often get on them.  Use an anti-reflective coating on your lenses to help eliminate distracting reflections so people can see the beauty of your eyes more clearly!
Not sure which lenses are suitable for your face? Stop in to a Sunglass Shoppe store, and we can help pick out the perfect pair! Locations in Petoskey, Charlevoix, Traverse City, and Saugatuck, MI.