Northern Michigan has so many cute little towns, unique shops, and great local restaurants. So it's hard to choose our favorite spots in Charlevoix, but we'll do our best!
Charlevoix South Pier Light Station: A great view on the water or from the shore, the Charlevoix South Pier Light Station is located on Lake Michigan at the entrance to Lake Charlevoix. You can fish off the channel, watch the bridge go up, or catch a beautiful sunset; Charlevoix never disappoints.
Sunglass-Shoppe: The original Sunglass Shoppe was – and still is – located in Charlevoix. The Sunglass Shoppe offers a wide variety of lenses; they include the newest frames from Maui Jim Sun and Optical, Tom Davies bespoke, Lafont, Ovvo Optics, OGA, and the timeless designs from California based SALT Optics. Stop in and try on a pair for yourself.
The Taffy Barrel: With a 5 star rating, this candy shop is no secret. The gourmet salt water taffy is never-ending, and the bulk candy is not only fun to look at it, but just as fun to purchase and eat. You can buy as little or as much of each flavor as you'd like.
Beaver Island Ferry: Located on Bridge St. in Charlevoix, the Beaver Island Ferry will take you on a 2-hour boat trip over to Beaver Island. Take your friends, pets, and/or vehicles over for a day of hiking, biking, or some leisurely fun.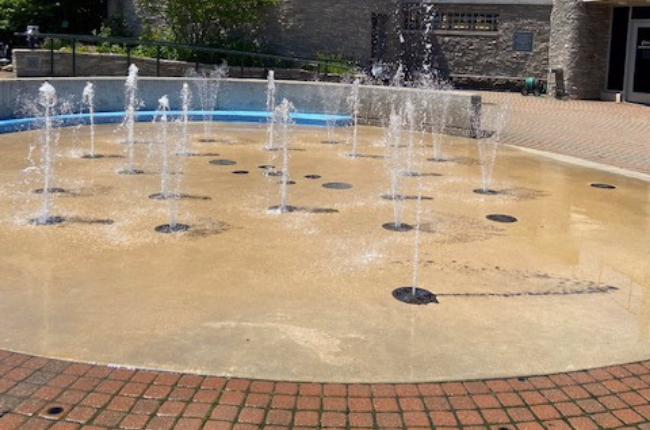 East Park: Located in the heart of Downtown Charlevoix, East Park is home to many shows and events at the Odmark Performance pavilion. A nice splash pad for the kids or those young at heart is on the north side and favorited by locals and tourists alike. You can watch the boats pull in and out of the marina or catch a beautiful sunrise over Lake Charlevoix.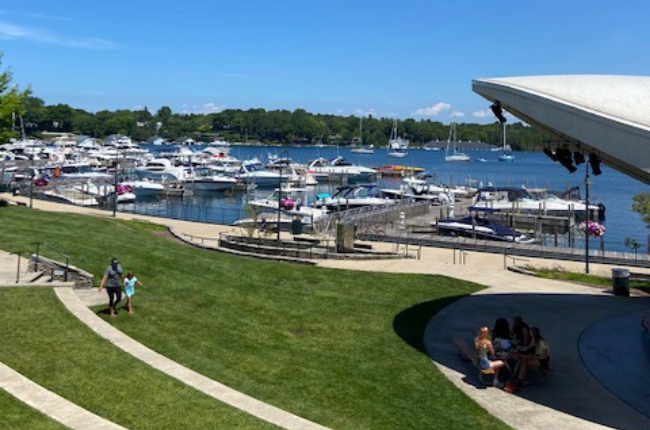 Cherry Republic: If you want cherry candy, you got it. Cherry soda? It's yours. Jams, Nuts, and Salsa? You get the point. Cherry Republic has all the cherries.
The Lake House: Stop by The Lake House in Charlevoix for unique gifts, home accessories, items for your cottage or boat, or something for your furry friend. It's such a neat place to shop while you are in town.
Stafford's Weathervane Restaurant: Choose to sit inside or on the patio overlooking the channel in-between Lake Michigan and Lake Charlevoix. The service is always fantastic, and the food is even better. Try the fresh local planked whitefish, fish and chips, or the spicy cherry chipotle BBQ ribs.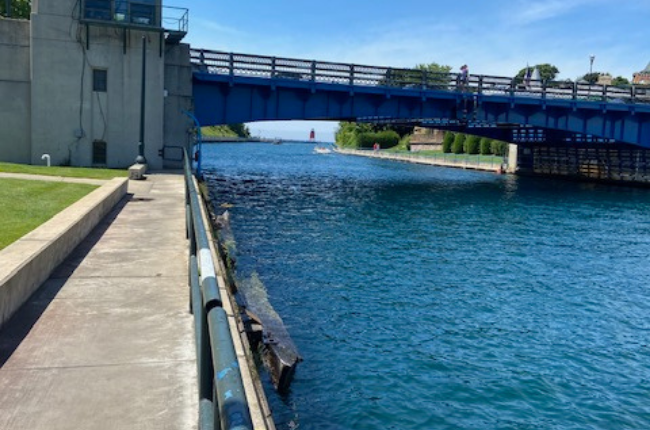 What are your favorites in Charlevoix? Let us know!
You might also enjoy:
Northern Michigan Fall Activities: It's now September, the weather has cooled off, and that means you need some Northern Michigan Fall Activities to enjoy!
Charlevoix in the Summer: If you want a great place to visit, visit Charlevoix in the summer. A little Northern Michigan town with lots to offer.
Activities in Traverse City in the Summer: Traverse City is one of Northern Michigan's larger cities with a small-town vibe. Try out some of these fun activities in Traverse City in the Summer.