Traverse City is one of Northern Michigan's larger cities with a small-town vibe. Try out some of these fun activities in Traverse City in the Summer.
The Little Fleet: An outdoor food court run by local entrepreneurs, you're sure to find a type of food you'll love in these colorful food trucks.
Check out the Beaches: Traverse City is lined with miles of beautiful sandy beaches. You can swim, soak up the sun, or build a sandcastle on the shore.
Sleeping Bear Dunes: Enjoy the beautiful sandy dunes, clear blue waters, and hike the many trails Sleeping Bear has to offer. Truly one of Michigan's most beautiful places.
Camp: Camp at Timber Ridge Resort with no need to bring a tent. You can rent one of their cabins for a more relaxing camping trip. With activities like dodgeball or swimming, you'll have a blast. You can also bring your bike to ride the paved roads or trails and relax at night with a campfire at your cabin.
Shopping Downtown: Downtown Traverse City has many unique stores that are offering personal shoppers who will help you find what you need and you can pick up your beautiful items curbside. Give it a try at The Sunglass-Shoppe at 137 E Front St, Traverse City, MI 49684.
Water Sports: Kayak on a river or SUP in Lake Michigan. There are lots of rental places near the water or you can always bring your own. Either way, you're in for an adventure.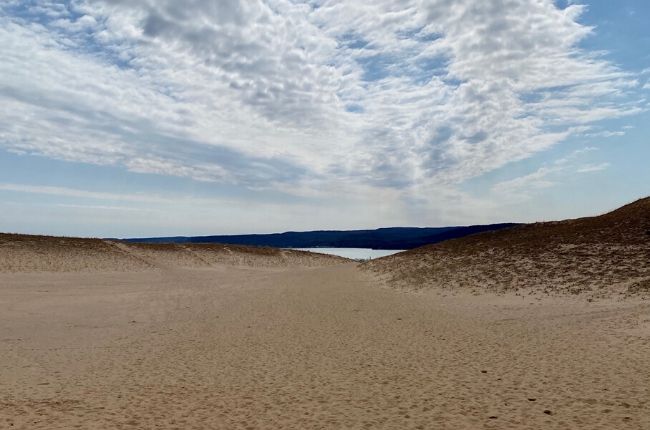 Golf: There are more than 30 golf courses to enjoy in the Traverse City area. Enjoy a day on the greens with a friend and gets some fresh air.
Hiking: The trails of Traverse City are one of my all-time favorite hiking spots. With hills, and Lake Michigan views, it is nature at it's finest. Bring a friend, some water and a camera to capture your trip.
Lighthouse Tour: Fun Fact, Michigan is the state with the most lighthouses. Take a self-guided tour and check out the many lighthouses around the Traverse City area.
Of course, there's fishing, biking, boating and many more things to do in Traverse City but this list will get you started.
You might also enjoy:
Tips for Selecting New Eyewear: Picking out a new pair of glasses isn't always easy. Whether you are in the market for eyeglasses or sunglasses, here are some tips for selecting new eyewear.
Parts of an Eyeglass Frame: Have you ever wondered about your glasses? Learn more about the parts of your eyeglass frames to find out some neat facts.
5 Benefits of Eyeglasses: If you're having issues with your vision, no doubt, eyeglasses can help you see better, and they've come along way in their style and comfortability. Technology has made them lighter, sturdier, and more fashionable. If you're on the fence between getting contacts or eyeglasses, let us help you decide.