Picking out a new pair of glasses isn't always easy. Whether you are in the market for eyeglasses or sunglasses, here are some tips for selecting new eyewear.
What is your face shape?
Oval: You should choose frames that are as wide as the broadest part of your face. Rectangular and square frames seem to look the best on oval face shapes, but it is a personal preference.
Square: Thicker frames are very flattering on square faces, choosing a thicker frame will help bring out your features. Round and oval frames tend to look the best on square face shapes.
Heart: Heart-shaped faces are wider at the forehead and smaller at the chin. You'll want to avoid oversized and thick frames and go for something a little thinner with a round or oval shape.
Round: A round face shape means the height and width of your face are pretty much the same lengths. To elongate your round face, try a square or regular shape frame. Even a pop of color would look great.
Diamond: Diamond face shapes are the rarest face shape. Most frames look good on a diamond-shaped face, but for your best look, try a rimless or oval frame.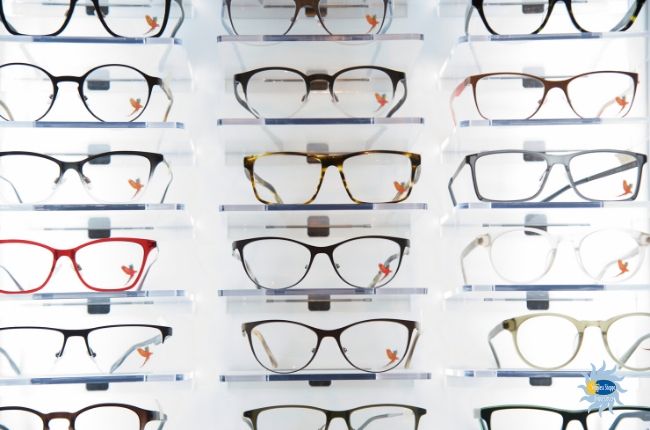 What's your skin, eye, and hair color?
Your skin, eyes, and hair color play an important role in figuring out which frames you should buy.
Skin Tone:
Cool: Cool skin tones are known to have pink undertones. Look for frames with cool undertones as well, like grey, green, and silver.
Neutral: A neutral skin tone means having pink and golden undertones. Having a neutral skin tone is great for your search on frames, choose an all-black frame, try a tortoise, or add a pop of color.
Warm: A warm skin tone means having golden undertones. Look for frames with golden undertones as well, like tortoise, brown, or gold.
Eye Color:
Blue: Tortoise and navy complement blue eyes and make them stand out a bit more.
Green: Brown and caramel colors showcase green eyes well, or chose any warm tone to bring out those green eyes.
Hazel: Amber colored glasses bring out those hazel eyes, along with metallic and grey.
Brown: Black and brown frames look great with brown eyes, but if you want to be adventurous, try an olive or bronze frame.
Hair Color:
Black: Black frames, along with frames with a tortoise color look sleek when pairing with your black hair.
Brown: Your brown hair will look wonderful with an earthy toned frame like tortoiseshell. If you have highlighted brown hair, try a toned glass or clear glass with a clear frame. This is a fashionable look that is coming back in style.
Blonde: Tortoise, brown, and other warm color frames complement blonde hair.
Red: Red hair looks great with a darker frame like black or brown, but if you love color, try a jeweled blue color.
Grey/white: Grey and white, natural or not, grey hair looks great with neutral-colored frames like brown, black, or even a mix. You could also try frames with a little color.
You might also like:
Lens Color Options and What They Mean: When sunglass shopping, it is essential to know your lens color options and what they mean. Sunglasses have different tints for a reason, and they aren't based on looks. You can use our color guide below to help you choose which shade is best for you.
Are Sunglasses Really That Important?: Wearing sunglasses allows you to represent your flair, your personality, and are a fun accessory, but are sunglasses really that important?
5 Benefits of Eyeglasses: If you're having issues with your vision, no doubt, eyeglasses can help you see better, and they've come along way in their style and comfortability. Technology has made them lighter, sturdier, and more fashionable. If you're on the fence between getting contacts or eyeglasses, let us help you decided.